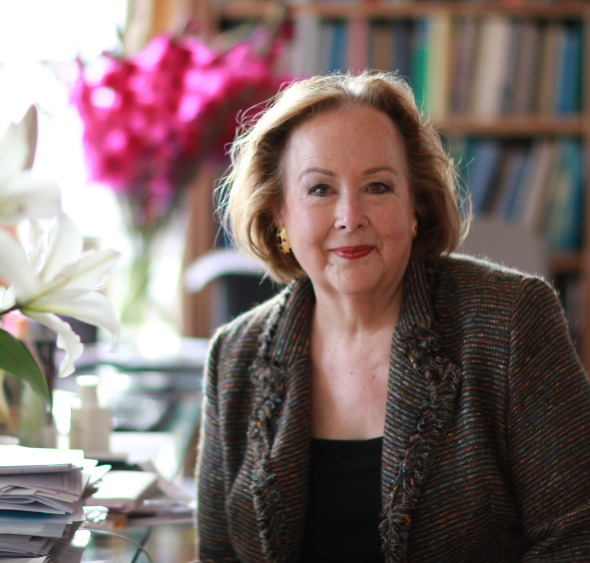 Shelley von Strunckel
is best known to the public for her intelligent and accurate columns on astrology and New Era thinking. Ever since she created the first ever astrological column in the London Sunday Times newspaper, in 1992, she's been a proponent of a topical, witty and upmarket brand of astrology.
Regarded as the voice of reason in the often-confusing field of astrology and related topics, such as the power of the mind and spiritual matters, she's considered an accessible expert. And with a practical spin. Her interview on the BBC World Service's incisive "Hardtalk" is a prime example of this. A frequent and popular guest on radio and television, her particular strength is an astrological analysis of current trends and news and political personalities; appearances have ranged from ABC and NBC in America, BBC, domestic and World Service, ITV and Channel 9 (Australia) news, to debates and discussion shows.
She writes daily, weekly and monthly columns. She was discovered in 1991 by the late, highly regarded, Patric Walker, with whom she shared a byline in London's Evening Standard. The London Sunday Times was her first solo effort. Now her columns appear in newspapers and magazines widely published in Europe, the Middle East, Australia and Asia, notably Hong Kong's South China Morning Post, London Evening Standard, Gulf News, Tatler, French and Chinese Vogue. Her columns, as well as her insights about this period of change can also be accessed on the internet at her own website, shelleyvonstrunckel.com
A frequent lecturer, she appears often, and literally around the world, from Australia, Hong Kong and Dubai to Scotland. A popular dinner and conference speaker, her topics extend beyond astrology to include subjects of increasing interest, from meditation to positive thinking, focusing on turning these techniques into tools to improve daily life. She is currently developing a television series exploring these subjects. She has also produced a film for the Red Cross on their work dealing with the AIDS crisis in Africa, and is developing a series for television on Sacred Sites.